What is KinAlert
KinAlert helps your loved one continue to live independently.
By using wireless, discreet sensors placed in their home, KinAlert monitors their daily activities. The system detects if something in their daily routine seems of concern or if an emergency issue has arisen. The system then notifies you via text message or email of this concern. If you cannot be reached in a case of emergency it will call out for emergency services. This system does NOT require a panic button to be worn, it does not require the home to have either an internet connection or a telephone line, it is pet friendly and works even in a power outage.
At any time log into your secure personalized system and view the following about your loved one in an easy to read graphed chart:
Know if they have been sleeping well at night
Know if are they are keeping up with regular meals
Know if they have they been leaving the house at odd hours
Know if they are up and about enough during the day
Be notified if there is a power outage at the home
Coming Soon: Reminder phone calls to take medications, meals etc.
Coming Soon: Front door will unlock automatically when their Panic Button is pressed
Click HERE and then on Alerts to see what notifications you can expect to receive!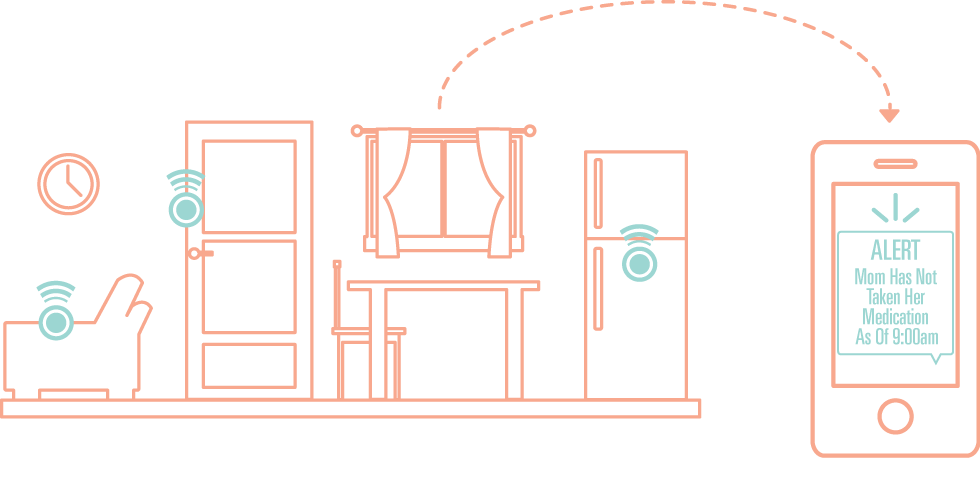 This system provides independence for them and peace of mind for you. Your loved ones DO NOT need to interact with any of the technology, just live in their homes as they always have. This does not impose on their privacy what so ever. We can tailor a system that is comfortable for everyone, and keep your family more connected than ever!
KinAlert is designed to be more comprehensive than the traditional "panic alert" button on it's own. A Panic Button alone will only work in case of an emergency AND if your loved one is willing to wear it! This system includes it's own panic alert buttons that work in the same fashion but are a part of a more complete solution. The button does NOT have to be worn for this system to work!
KinAlert is based in St. Catharines, Ontario. We service from Niagara, to London, to Toronto and many more communities in between. Let's chat today!
Does this sound familiar to you?
| | |
| --- | --- |
| | You want your loved one to remain in their own home but worry about their safety and wellbeing throughout the day. |
| | Have an older child with special needs that would like more independence? KinAlert is the perfect first stepping stone for you both! |
| | Has a family member had a recent illness that requires extra monitoring, but don't want to go through the expense of assisted living just yet? |
| | Would you like a safety net at home for active healthy aging family members, but don't want to impose on their privacy? |
How will KinAlert help us?
| | |
| --- | --- |
| | Sends you alerts even when a personal alert button cannot be pressed in an emergency. |
| | Know if they are taking their medications, forgetting to lock the front door, sleeping well at night, eating regularly etc... |
| | Make your loved one feel secure living alone while maintaining their privacy at all times. |
| | Delivers you real-time notifications to your mobile phone or computer. |