KinAlert helps your loved one continue to live independently. This system is also an amazing solutions to gain independence for loved ones with special needs. By using wireless motion sensors placed in their home, KinAlert monitors their daily activities. Notifications are then sent back to you, via the computer or smart phone. These real time messages, inform you if their daily routines are being followed or if an issue of concern has arisen. We create the BEST solution for them
Click to learn more about each step
Call or email us today to set up a convenient time us to meet at the home of your loved one. We will clearly go through all the options available to you and their benefits. Then, together with your loved one, you can decide what will work best for everyone's lifestyle. We will then provide you with a quote for the initial installation and the monthly monitoring going forward. You can plan for this initial meeting to last approximately 45 minutes. We can provide a quote to you right away during that meeting.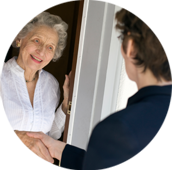 After meeting in the home with you and your loved one, we put together a package that will be best suited for their needs and lifestyle.
Our certified (and very courteous) professional installers will install the wireless equipment, all of which are small, discreet devices. If you didn't know they were there, you wouldn't even notice them. An app is installed on your phones, iPads and or computers and we set up how you would like to receive the notifications. We then teach you how to change these on your own going forward. The software is very user friendly and simple to navigate. After a few months of getting to know your system, we will check in with you to go over any question and or changes you may require.
Nothing changes for your loved one. We can't stress that enough. They simply go ahead with their normal routines in their home. They will forget that they even have any of this technology in their home. They don't have to touch a thing!
Family members and caregivers can monitor their loved one's activity, such as whether or not there has been consistent movement in the home throughout the day. And, with intelligent sensors to track and learn the home's activities of daily living, KinAlert can identify anomalies that may signify a problem. If the system cannot reach you, it can be programmed to call emergency services.
Dedicated Communication – Power Outage? No Worries!
Dedicated and secure cellular communication provides safe, reliable, uninterrupted protection – even if the phone, internet or broadband is down.
Reliable & fast cellular communication, no landline needed.
In the event of a power outage, your system will operate on backup battery power for 24 hours so you stay secure.
Safe for critical security messages – not shared with internet, entertainment or phone lines.
Examples of what types of information you can expect to receive with KinAlert:
| | |
| --- | --- |
| | If your loved one does not get out of bed by a certain time in the morning |
| | If the medicine cabinet is not opened or opened too often |
| | Refrigerator is left open, or is not opened at all. Great way to keep track of eating patterns and if they change. |
| | Doors/Garage Doors are left open. You can even remotely close and lock these from your phones. |
| | If you're loved one is getting up and about. And be notified right away if they are not! |
| | If there has been no motion in the home when there would normally be. |
| | If the temperature of the home is out of a normal range |
| | Be alerted if your loved one is wandering or leaving the house at odd hours, or not at all. |
KinAlert also allows you to…
| | |
| --- | --- |
| | Simplify daily routines by automating temperature, light and security. All of which we can provide and service. |
| | KinAlert can also be a full security system in the home. |
| | KinAlert also provides Personal Emergency Response (PERS) pendants as a part of our system. |
| | We can also place panic buttons in specific areas of the home (ie/master bathroom) in case of emergency. This is helpful when they are not comfortable wearing the pendants. |
Stay in control of your system at all times. Our top rated, easy to use mobile app puts your home in your hands. You can arm and disarm your system, and check the arming status at any time. View any cameras, the status of the sensors, and much more.
Instant Alerts
Get real-time notifications by text or email to know what's happening at home, the moment it happens. Choose to receive alerts via text, push notification, email or phone call.
Personalized User Codes
Create unique user codes for your family and visitors. Know who's coming and going, and who armed or disarmed the system. Enable or disable codes at any time.
History
Look back at activity over time or search for specific events. With our always-aware sensors and searchable event history, you can review any activity by sensor, type of event, date or time.
Why KinAlert
| | | |
| --- | --- | --- |
| | | |
| Independance | Happiness | Savings |
| Helping your loved one stay independent, while secure, will keep peace and harmony in their lives. Which is beneficial to their overall health. | We all want our loved ones to stay in their own homes, where they have spent years creating memories and feel most comfortable. | The initial, one-time cost of having a KinAlert system installed into their home is about ½ of the cost of one month of living at a retirement home. And the monthly monitoring starting at $50/month is cheaper than an average cell phone bill. This technology will allow some to put off a retirement home, saving them money. Payment options available. |
More Advantages of KinAlert
KinAlert can be your total home solution by choosing to include controls for door locks and garage doors, so you can open, lock and unlock remotely. Wireless carbon monoxide detectors, smoke/heat alarms, thermostat control, wireless doorbells, and lamp controls are all options to include in your system. We can discuss how all these different options will benefit your loved one in their home. Then as a family, you decide what works best for everyone's lifestyle. Get to know living patterns that can be shown to doctors for a broader look at their whole health. Eating, sleeping, daily activity levels and washroom habits are all recorded and graphed and easily accessed to show physicians to help get a better understanding of their current health state. This also aids in early detection of possible health issues such as urinary tract infections, and even Alzheimer's.
Other Applications for KinAlert
Do you have a loved one with special needs and requires extra care? KinAlert will change your life and more importantly theirs. KinAlert gives them the independence they want and need, while giving you the tools to make sure they are safe and going through their regular routines that need to be done on a daily basis. Call us to ask how we can tailor KinAlert to best serve your families needs for an independent, comfortable lifestyle.
Do you have children who let themselves in the house after school? Stay home alone for short periods of time? KinAlert can let you know when your child has arrived home safely, if they have set the alarm, and or if they have performed any daily routines. It also let's you know if something out of the ordinary has happened.
KinAlert VS. Personal Emergency Response Buttons
More comprehensive than traditional Personal Emergency Response (PRES) wearable pendants, KinAlert is a safety net that provides a more complete view of a loved one's well-being, and delivers automatic, real-time alerts. Unlike a PERS button, KinAlert does not rely on the individual to take an action or remember to keep the button with them. With additional information like inactivity alerts or unusual activity patterns your PERS system can be enhanced to provide a more comprehensive solution.
The current PERS systems have significant limitations. KinAlert helps enhance those traditional solutions to create a more complete view of a person's well being.
| | | |
| --- | --- | --- |
| Compare KinAlert to Wearable Panic Button | | Panic Button |
| Sends alerts even when a button can't be pushed | | |
| Provides real time updates sent to your smart phone or computer | | |
| Works before an emergency | | |
| Monitors daily routines | | |
| System can automate lights, temperature and security | | |
| Creates night time safety with integrated bed sensor | | |
| Personal Panic Buttons (KinAlert's can be worn AND/OR placed around the home) | | |